The sequel to Crazy Time is just around the corner, and this time we're taken to a 70s disco filled with colorful and crazy bonus features. Funky Time is an unique, multiplier-filled extravaganza! This game will also release with the new revolutionary technology, DigiWheel, which offers dynamtic multipliers, combined with fantastic disco beats!
Funky Time is a game that fits all types of players, no matter if you're new to casinos in general, or a veteran. Getting started is super easy, and Funky Time offers an exciting and enjoyable gaming experience. A jump back into the past, straight to the 70s. Let us at TopTopCasinos check out what this awesome title has to offer!
Funky Time from Evolution
Funky Time is just as many other Game Shows, centered around a gigantic wheel, filled with different numbers, letters and bonuses. This wheen is spun by a host that is also commentating the game round as it progresses. But what makes this game different from many others, is that they now offer the DigiWheel technology, which dynamically generates random multipliers every round, and puts them on the wheel. It makes every spin unique, since the positions are constantly changing. You win if the wheel stops on a position you bet on.
In total, the wheel consist of 24 different positions, which offers a base payout rate of 25:1, this means you'll be getting 25 times your stake. These are also the winnings you can claim in just the base game alone, before you even managed to get into all the bonuses the game contains. There are four different bonuses in total. We have the Disco bonus, the VIP Disco bonus, BAR, and Stayin' Alive. To activate these, you simply bet on these bonuses, and hope the wheel ends up on them. These bonuses contain the potential for really large winnings, if you're lucky.
How do you play Funky Time?
Getting started playing is actually really simple, which is also part of the charm of the game. As a player, you get multiple different options you can bet on, and every bet is part of the big wheel. You can choose to either bet on the letter segments, or the different bonuses. If you're feeling extra funky, you can also bet on multiple options at the same time.
After placing your bets, the round will begin. The host will then spin the wheel, and if it stays on one of your bet positions, you win. The base payouts is as previously mentioned, 25:1. The real potential however, lies in the various bonuses the game has to offer.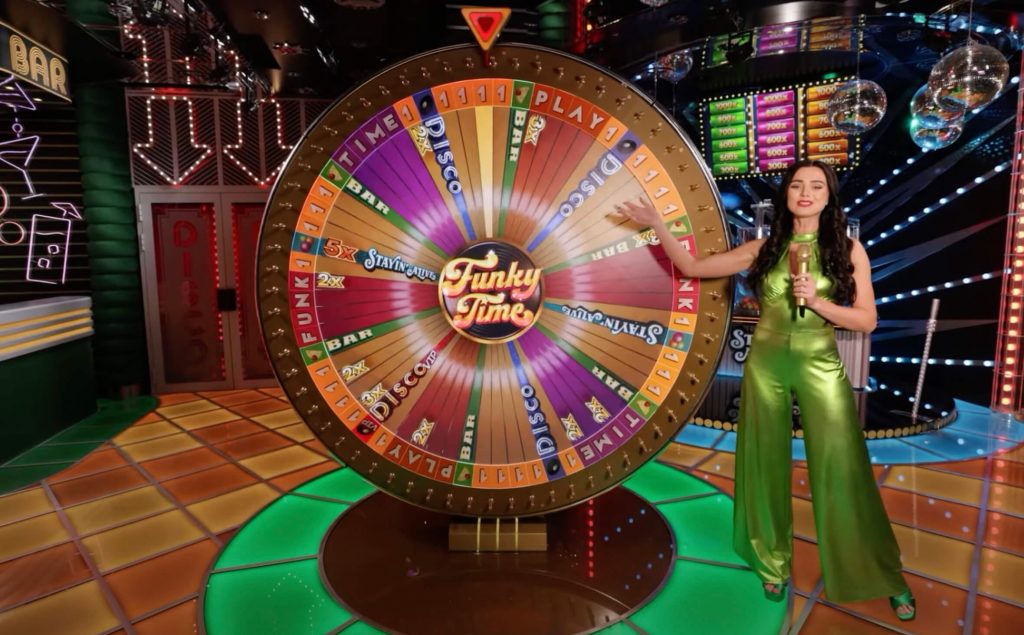 Bonuses on Funky Time
If you're looking for the really big wins, the bonuses are what you should be betting on. These have great potential. In total, there are four seperate bonuses, all with their unique rules and functions. Place your bet on either, and pray for the best. If the wheel hits, the scene will move to the respective bonus. We've gone through how the various bonuses work below.
Disco Bonus
Move straight to the dance floor with the disco bonus. Mr Funky will show off his best dance moves, and collect multipliers for you on the virtual dance floor. This floor consist of 37 different squares. He starts in the middle, and who know where he'll end up?
At the same time as Mr Funky is getting his groove on, the host will be spinning a little wheel consisting of eight segments, showing the different directions. Up, Down, Left and Right. This is the wheel that decides in what direction Mr Funky will move next. While he dances, he'll collect the Multipliers that are scattered around the dance floor. The bonus will end when Mr Funky falls off the floor.
VIP Disco Bonus
VIP Disco works practically the same way as Disco Bonus, but in this bonus, the floor is upgraded to contain 63 different squares instead. It gives him more room to work with, to show off his best moves. You'll find bigger multipliers here, but the main advantage is that the floor is much bigger, making the rounds last longer, as it's harder for Mr Funky to fall off too early.
BAR Bonus
If the wheel were to stop on BAR, you'll be moved to the BAR Bonus. This bonus consists of a green robot, with three seperate glasses. The objective of the game is to guess the glass you think will contain the biggest multiplier. After you've made your choice, the robot will start pouring up the glasses. However, before that, you'll get an additional suprise, a small wheel which will spin for another multiplier. This multiplier will be assigned to a random glass. Just hold your thumbs that you made the right choice!
Stayin' Alive Bonus
Lastly, we have the Stayin' Alive bonus, a bonus that combines entertainment with a ball drawing machine. This machine contains a total of 90 seperate colored balls, and a multiplier stage with 20 different levels. The top level contains an whopping multiplier of 10 000 times the stake.
All players start on the bottom level, which consist of a 5x multiplier. The objective here is obviously to climb as far as you can manage for bigger winnings. You start out with four lives. Pick your team, and see how far you can make it before you lose all of your lives. Which team gets the furthest is decided entirely on the ball drawing machine we mentioned earlier. The numbers on the balls drawn also decide how many levels you can climb each round. If a black ball were to show up, however, you lose a life. This means that four black balls ends the bonus.
Conclusion & Rating of Funky Time
There is no provider on the market that is as hot as Evolution is right now. They've been at the forefront of the Live Casino sector for years at this point, and with titles such as Crazy Time, and now Funky Time, they've proven once again why they're the best. The Game Show concept was actually started by Evolution as well, some fresh air that was definitely needed within the Live Casino section.
Funky Time is a very interesting title, to say the least. They've really managed to capture that 70s disco vibe, and packed it into an exciting and entertaining game show. The game has the same feeling as Crazy Time, and feels like a worthy successor. All bonuses offer something unique, and have plenty of exciting elements to them. This makes every round feel interesting. The potential is also there, with the Stayin' Alive bonus for example, offering levels up to 10 000 times the stake.
This is definitely one of the more entertaining titles from Evolution lately, and we've thoroughly impressed. Playing Funky Time will also be super simple once it's been released to the public. It only takes a round or two before you understand how it all works, and can start placing your own bets. This is a game we definitely recommend!