Most people have probably heard about the Game Show 'Deal or no Deal' at some point. The game is all about trying to find your way to the correct box which contains the most money. For each round that passes, a certain amount of boxes disappear followed by a new offer from the bank. You always have the option to take the offer from the bank, or continue playing. If you keep playing until the end, you keep the last box that is remaining, which can be just about anything from the lowest to the highest prize. Evolution has taken the core concept from this game and added some volatility, features, and multipliers to the mix to make it even more exciting. Now you can enjoy Deal or no Deal Live!
Deal or no Deal Live can easily be found on any TopTop Casinos that has Evolution, which would be pretty much all of them. So if you want to enjoy this fantastic game, you won't have to worry about finding it. This also makes it easier to find great bonuses for the game, if you want to get some extra cash to play with. On this page, we'll go through how Deal or no Deal works, and where you can play it!
How to Play Deal or No Deal
The game is in its core principle very easy, which makes it quick and smooth to learn and start playing. Just a couple of rounds of spectating before you start playing, and you'll be good to go. If you're ever unsure about anything regarding the game rules you won't have to worry as the dealer will constantly be commentating the round and explaining the rules. There are no real flawless tactics or strategies that work for this game, so a lot of the time you're going to be playing on your gut feeling and luck.
Each game starts by the players placing their bets. Once the bet timer is over, the game round begins. On the screen, you'll see a host together with a table and a phone. Behind him are 16 different shut cases. These cases contain different amounts, from low to high. The goal of the game is to manage to find the box which contains the most money, without losing it. Each round, 3 cases will be removed followed by a call from the bank which will give you an offer based on the amount of cases remaining and the amounts in them. It's always up to you to decide if you want to take the offer, or keep going!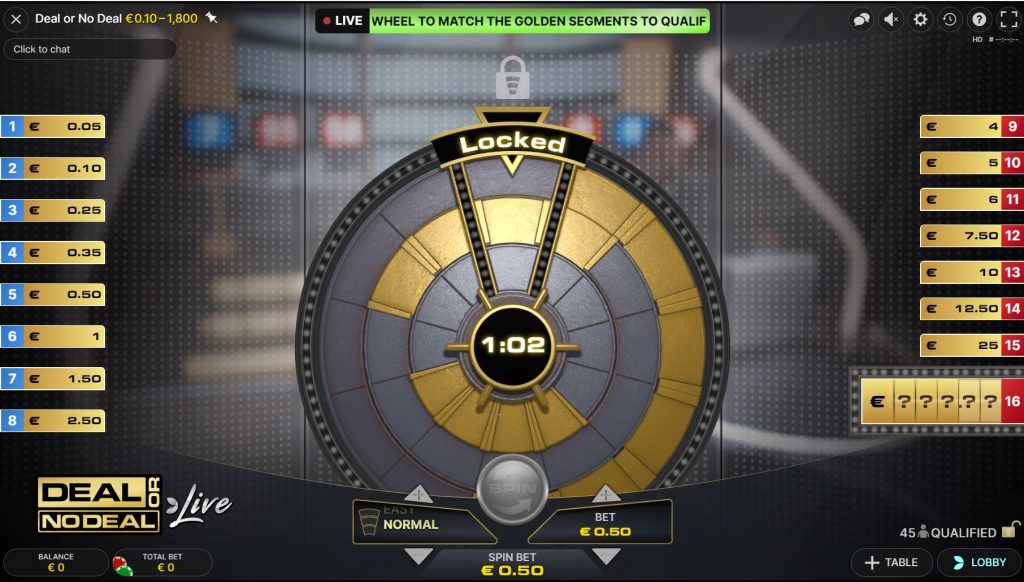 Multipliers and Top-up Rounds
To be able to qualify for the Game Show round, the players must spin the triple-reel bank vault wheel. This will give you a multiplier on the biggest prize briefcase of up to 75 to 500 times the stake. Make sure to be quick as the clock is ticking. For complete transparency, Evolution has made it so that you can pick any of the available 16 briefcases to be your biggest prized briefcase.
Once all players have locked their multiplier rolls on their biggest prized briefcase it's time for the Top Up wheel, where the time is ticking once again. Here, you can choose to top up the amount of money in any of the briefcases by 5-50x their bet. Make sure to do this fairly quickly so you don't run out of time.
Deal or No Deal Bonus
We always recommend that you pick up a bonus before you dive straight into new games. Having a bonus will boost your balance, giving you more money to play for. Having more money to play for will benefit you early on when you're picking up the game, and will also help you through cold streaks if you're unlucky.
As you can tell, there's many benefits to playing with a bonus. Something to keep in mind is that casino bonuses and Live Casino bonuses are usually kept separate due to different wagering requirements, so not all bonuses will work with Deal or no Deal. Make sure you read the bonus terms and conditions before you accept the bonus.