Super Sic Bo is a remake from Evolution of the classical dice game Sic Bo. This game is fairly easy to get the hang of, and to get started with. Sic Bo is a classical table game that is very old, and has been enjoyed by gamblers for hundreds of years. The origin of the game is Asia, and it is today enjoyed all over the world. The goal of the game is to guess what outcome the game will get. It's a bit similar to Roulette, but instead of a wheel, you use dice. Sic Bo is usually found in the Table Games menu together with other classical table games like Blackjack and Roulette. When playing Super Sic Bo, you'll be playing against a real dealer together with other players. Evolution has taken the core concept of Sic Bo, and added some awesome features which makes it even more volatile and fun!
Super Sic Bo Live can easily be found on any top International Casino that has Evolution, which would be pretty much all of them. If you want to use a live casino bonus when playing Super Sic Bo, you won't be having a problem finding one. On this page, we'll go through how Super Sic Bo works, and where you can play it!
How to Play Super Sic Bo
As previously mentioned, Sic Bo is played with three dice and the main objective of the game is for you to guess the outcome. The game round starts out with the players being able to place their bets. After 20 seconds, the bets close and the game round begins. The dealer will then spin the dice, and hopefully you've managed to guess the outcome of the value for some awesome winnings. It's important to remember that Sic Bo is a hazard game that is purely luck, and for that reason there are no clear cut strategies for this game. In the end, it's all luck, so just play by your gut feeling.
We recommend starting out pretty small when it comes to bet sizing so that you can get a feel of the game before you start betting alot. The dealer will help you out if you're feeling unsure as she will be commentating the game round as it progresses. All in all, after a couple of rounds you should have gotten a solid understanding and you can start raising your bets if you'd like. There's many different bet options. You can for example bet on just two dice, the total value of all dices, odd, even and so on.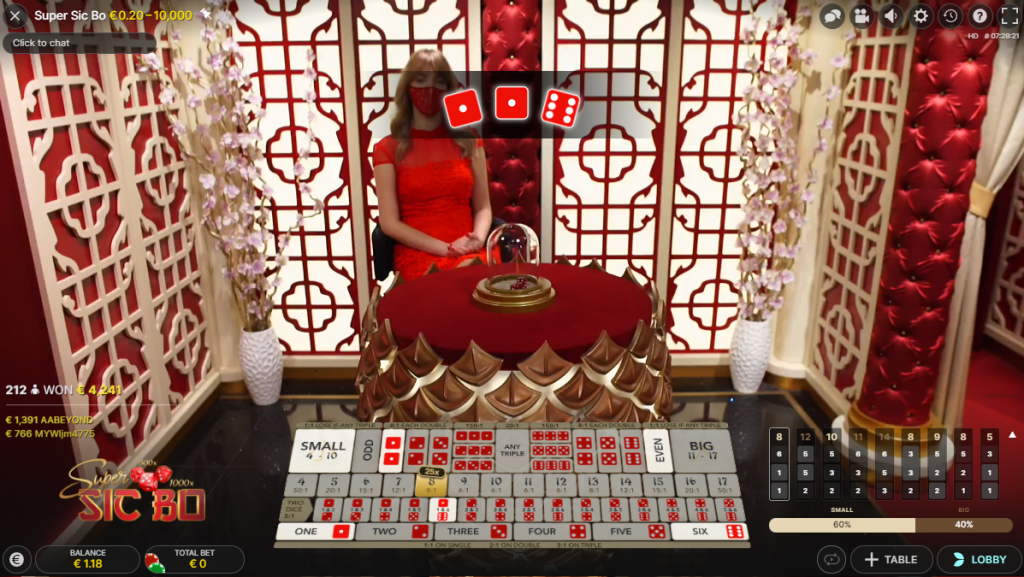 High Volatility – High Multipliers
Evolution has long been ahead when it comes to Live Casino products, and that's most likely thanks to all their fantastic and unique Live Casino titles they've been releasing the past few years. Super Sic Bo is an awesome remake of the classical Sic Bo, with some added volatility in the form of large multipliers. These multipliers can hit on any numbers at the start of the game, and give them up to 1000x multiplier. As you can guess, this can result in absolutely wild winnings if you're lucky.
It's clear that Evolution really enjoys remaking old classics and giving them a volatility push. They've done this many times before with titles such as the Lightning series. They've also released tons of exciting and innovative titles such as Mega Ball, Crazy Time, Deal or no Deal, Monopoly Live and more. We definitely recommend checking them out as well.
Super Sic Bo Bonus
This awesome game contains many cool features such as multipliers which can give you some insane winnings, however, it does not contain any actual bonus features that you can trigger. However, just like with any game, we always recommend using a casino bonus when playing. In this case, a Live Casino Bonus would be the best fit. Plenty of those can be found in the lists here on TopTopCasinos. Something to keep in mind is that you should always read the bonus terms before you accept a new bonus. This is to make sure that the bonus will be a good fit for the games you're planning on playing, as well to make sure the wagering isn't too high and so on.