Lightning Blackjack is a live dealer blackjack game made by Evolution. It is part of the very successful Evolution Lightning series, with award winning games like their Lightning Roulette. The game features a 99.56% RTP with a max bet limit of $5,000, making it suitable for both casual players and high rollers. The game is played like the classic version, but features lightning multipliers that can multiply your win by 25x.
Lightning Blackjack from Evolution
Lightning Blackjack is the latest release and last member to join the famous Lightning live casino series from Evolution. The game is loaded with lightning multipliers, and offers a great RTP (return-to-player) of 99.56%.
Other members of the Lightning live casino series include:
Lightning Roulette
Live Lightning Dice
Lightning Baccarat
This game works a bit different from the rest of the games, so without further ado, let us dig straight into our Live Lightning Blackjack review.
Lightning Blackjack Review
Lightning Blackjack has actually been in the works for quite some time. In fact, Evolution has tried to create a Lightning Blackjack game multiple times in the past. However, the game always seemed to turn out a bit different from what they wanted. The game simply lost its charm thanks to the inconsistent and overabundance of multipliers.
By the words of Evolutions CEO himself, Todd Haushalter, early versions of the game didn't quite hit the spot. Todd explained that the way multipliers were chosen was the wrong approach. It resulted in excessive splitting and players looking to win with multipliers only. This led Evolution to change Lightning Blackjack, with the final version coming out in 2021.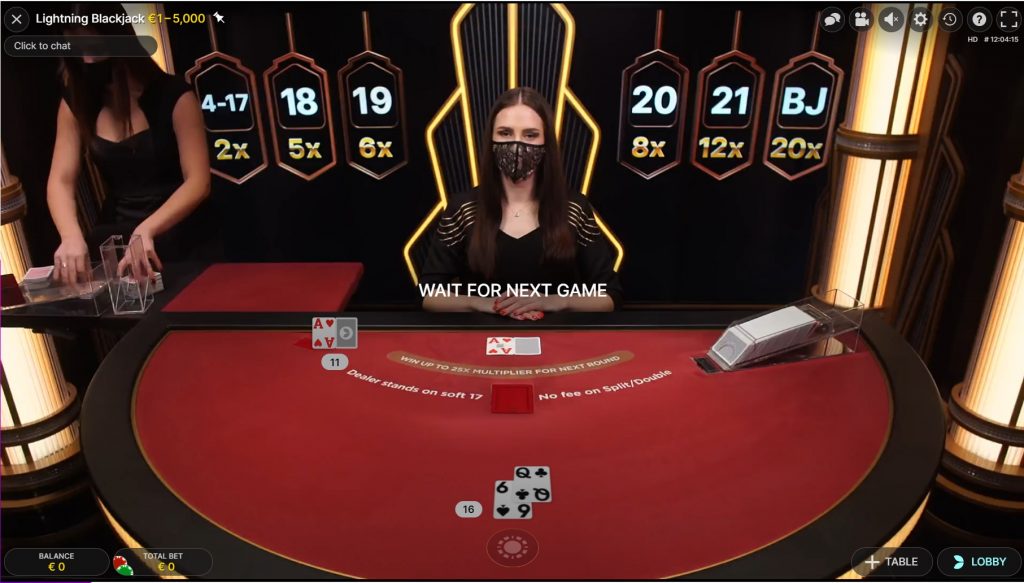 How to play
Lightning Blackjack is a standard game of European Blackjack, so you won't have to learn any new rules of how the game is played. There are however tons of multipliers, so let's explain how they work.
To win with multipliers in Lightning Blackjack, you need to win multiple hands. In order to get a chance at the multipliers, you have to pay a mandatory 100% lightning fee. In other words, you pay a lightning fee equal to your main bet. If you win your first hand, you get paid 1:1, and a blackjack pays 3:2. This means you can't profit from the first hand at all, but instead you set up the next round with potential multipliers.
For instance, if you have a hand that is 17 or below, you will gain a 2x multiplier for the next round. If your first hand equals 18, 19 or 20 you can get 5x, 8x and 10x multipliers. However, the real excitement comes when you hit a blackjack, which would multiply upcoming wins by 15 or 25 times. The multipliers are randomized between 2x and 25x, but the minimum for a blackjack is 6x.
Winning with a Lightning Blackjack Multiplier
If you win a hand with an active multiplier, the main bet (up to the value of previous lightning fee) will be boosted by the multiplier. You can still bet more than the previous lightning fee, but the remaining part of the bet will be paid at the standard rates.
Things to keep in mind before playing Lightning Blackjack
The main thing you as a player needs to understand is that the multiplier can only give you boosted wins on the next hand you play. The multiplier boost will only be applied if you win the hand.
If you lose, both the lightning fee and main bet will be lost. If you have an active multiplier, it will disappear and you have to get a new one. When you do get a multiplier, you won't have to play it instantly. The multipliers are saved for up to 180 days.
Extra points to note:
In the case of a push, the lightning fee is lost and the main bet is returned to the player.
If the hand is a split, the hand with the highest value will be used to determine the lightning multiplier.
Insurance pays 2:1, but you lose your lightning fee together with any potential multipliers.
Where to play Lightning Blackjack
Lightning Blackjack is available everywhere where Evolution provides live games. Considering Evolution is the world's leading live game provider, you can expect to find Lightning Blackjack in most online casinos. You can find a more complete supply of online casinos with Lightning Blackjack in our list on this page. Find your TopTop Casino with Lightning Blackjack in our lists!
Conclusion
When classic European Blackjack meets Evolution's brand of lightning gambling, you can only expect to receive a great outcome. If you are a lover of blackjack games like us, this is a perfect game that doesn't lose touch with the classic game rules. You get the same blackjack game that we all love, but with tons of added multipliers that opens the path to much bigger wins. Although chasing a big multiplier is tons of fun, especially if you hit it, be careful as they lower the overall RTP rate. Since the dealer has to stand on soft 17, together with the six card charlie rule in your favour, the game brings a balanced experience.
Overall, this is yet another successful live game added to Evolution's lightning series. Although we personally prefer the classic Blackjack game, it's no doubt that this game will be a big hit amongst players. If you're wondering where to find casinos with Lightning Blackjack, check out our list on this page. Until next time, good luck!