Mega Ball is a fairly new and fresh title that was released by Evolution back in April, 2020. This is a Live Game played with balls that has different numbers on them, similar to Bingo. The balls roll around in a machine, and are then released randomly. While playing Mega Ball, you'll be watching through a live stream, and a host is constantly commentating the game round as it progresses. Mega Ball contains tons of excitement, high multipliers, and a chance for really big winnings, if you're lucky.
Anyone can join and play Mega Ball at any time. After just a couple of rounds of spectating, you'll quickly get the hang of the game. If you've played Keno or Bingo previously, you know how it works. Any amount of players can bet on a single game, and the rounds are fairly quick so that you'll get alot of action. On this page, we'll be going through how Mega Ball works, how to play it, and where you can play it!
How to Play Mega Ball
As we've mentioned, Mega Ball is very similar to Bingo where the main objective of the game is to fill up full rows on your number card. The numbers are placed randomly on the number cards which you buy before the game begins. If you manage to fill up the rows, you'll get rewarded. The more rows, the more money you win.
Every round starts out with all of the players being able to buy number cards. After 10 seconds, the bets close and the machine starts spinning the balls. The host will commentate the round and keep the players engaged. She will also explain everything, and present all of the numbers as they're drawn. Once you've bought your number cards you can pretty much just lay back and relax as you watch your number cards fill up.
The end of the round is where the things get exciting. Once the last ball has been drawn, it's time to draw the multiplier for the round. This multiplier can get as large as 100 times, but multiple possibilities between 5-100x are possible. There is also the possibility for the Mega Ball to be drawn, which will grant you even larger wins.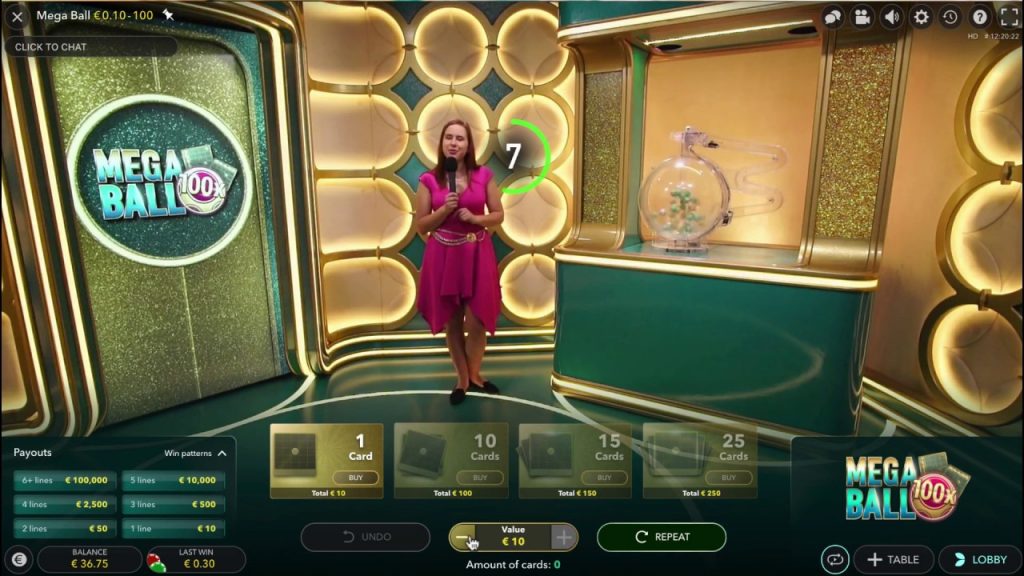 Mega Ball Bonus
Players who have played games with multipliers before, know how crazy and exciting they can get. A Lot of money to be won, if you're lucky. The Mega Ball Bonus Multipliers start at 5x, and go all the way up to 100x. Each multiplier is represented by a color. If the Mega Ball number ends a line, you'll get paid out the value of your card with the multiplier shown.
We recommend using a Live Casino Bonus when playing Mega Ball. This will ensure that you get more money to play with, and gives you an extra shot at winning big. Live Casino Bonuses can be found around the site here at TopTopCasinos, as well as on our International Live Casino page.
Always make sure to read the bonus terms before you accept a new bonus however, to make sure that the bonus is eligible for what you're trying to do. Live Casino games for example, are not allowed on all types of bonuses. Some casinos also have special bonuses for Live Casino Games.
Exciting Titles from Evolution
Evolution has been hot lately, releasing new titles left and right. Mega Ball is one of their most recent titles, and Game Shows, but they've made similar ones in the past. Dream Catcher was one of the first Game Show titles on the market, and what revolutionized the Casino Game Shows. Since then they've also released Deal or no Deal, Monopoly Live and tons of other awesome titles.
When you hear us compare Mega Ball to bingo, you might think of a boring and slow gambling session, but it's not at all like that. With Mega Ball, they've managed to capture the concept, but add tons of extra excitement, and faster rounds. You'll never have a boring time when playing Mega Ball, or any of the other exciting titles from Evolution. We've covered many of them here, so that you can read about them, and get started right away!