Monopoly is a classic table game that most people probably know about, and have played at some point in their life. You never forget the feeling of being able to buy the best hotels and streets, or having to pay hefty fines to your mates when you end up on their lots. The game perfectly combines feelings of joy, anger, suspension and is incredibly fun. Evolution has managed to captivate the true Monopoly experience in a new and exciting Live Game Show!
Monopoly Live is played with a gigantic Money Wheel that is spun at the start of every game round. Here you can bet on all the numbers on the wheel as well as the Special 2 Rolls and 4 Rolls features which contain hidden bonus games with crazy potential. Just like Dream Catcher and Crazy Time, Monopoly Live is played with a live host that is constantly commentating the game round as it progresses. On this page, we'll go through how Monopoly Live works, how to play it, and where to play it!
What is Monopoly Live?
Monopoly Live is a live casino game created by Evolution in cooperation with Hasbro, the original creators of the Monopoly franchise. This game is built on a Money Wheel where you can bet on the numbers on the wheel as well as on the bonus features. If your bet hits, you win your money times the multiplier from the wheel. The Game Host will commentate the entire game round so all you have to do after you've placed your bet is sit back and relax.
This game contains tons of excitement, and is extremely easy to get the hang of. We recommend just waiting a few rounds before you start playing to understand the basic rules of the game. After that, you can start off by betting small on the numbers you think is going to win. The best part about Monopoly Live is that you can win extremely big despite betting quite small thanks to the crazy multipliers the games can reach! Find casinos that offer Monopoly Live in TopTopCasinos lists!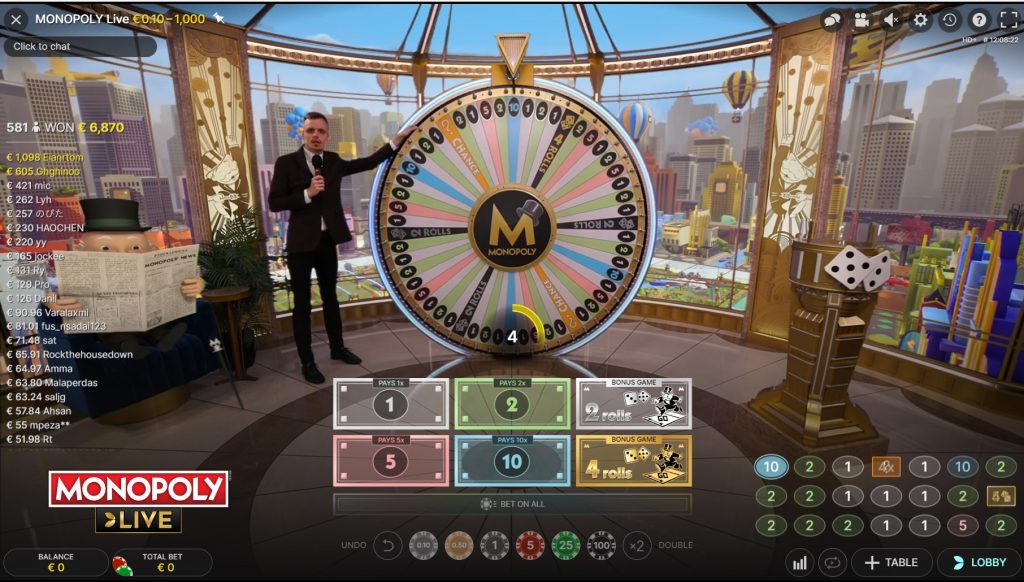 How to play Monopoly Live
As you'll quickly notice, the board is not at all similar to the classic Monopoly table game that you might be used to. Instead, this game is based on a gigantic wheel which contains numbers, and two special feature slots. The numbers available on the wheel are 1, 2, 5, 10, 2 Rolls and 4 Rolls. The higher the number, the fewer slots you'll find on the wheel. This is because each number represents a Multiplier, so it's harder to hit winnings on the higher ones. As an example, there are twenty-two Number 1's, but only four Number 10's.
Each game round starts out by the players having 10 seconds to place their bets. Here, you can bet on the numbers you think are going to win. Multiple bets can be placed on multiple numbers, it's all up to you. Make sure to bet on the 2 Rolls and 4 Rolls if you want a chance to win the bonus feature. Once all bets have been closed, the host will spin the wheel. If the wheel stops on your number, you'll win your bet multiplied by the number.
There is also one last slot on the wheel that we haven't covered yet, the Chance slot. If the wheel stops here, you'll either get a random cash prize, or a multiplier bonus. If you get a multiplier bonus, the wheel will be spun again, and your bet remains.
Example: You bet 10 Euro on number 5. The wheel spins and stops on Chance, giving you a 5x Multiplier. The wheel spins again and stops on number 5. This will give you 10 Euro x 5 x 5 = 250 Euro in winnings.
Monopoly Live Bonuses
Even though the Money Wheel isn't what you're used to when hearing Monopoly, you'll quickly recognize yourself if you manage to get into the bonus. the 3D bonus round starts if the wheel stops on the 2 Rolls or 4 Rolls slots. The game plan will then quickly shift to the Monopoly town where we'll get to follow Mr Monopoly and collect winnings.
Just like in the regular Monopoly, there's two dice deciding how many steps you'll be taking. On the way, you'll be collecting streets, houses, hotels, prisons, MOVE and so on. If you haven't played Monopoly in a long time, it'll definitely be a nostalgia trip. Here, the 2 Rolls or 4 Rolls will decide how many times you can spin the dice. Some crazy winnings and multipliers can be collected here, if you're lucky!