Dream Catcher is innovative, and we dare to say even a revolutionary Live Game Show released by Evolution. It's the first of its kind, and what sparked the recent popular trend of Game Shows. Since this release, Evolution has moved on to release many similar titles such as Crazy Time, Monopoly Live and Mega Ball.
Dream Catcher in its core is a very simple game which is very similar to Roulette in many ways. If you've played on wheels at any point, you can probably figure out the gist of it. This wheel is handled by a real dealer which you'll see in real time commentating the game round as it goes on. The game starts out by the dealer spinning the wheel, and depending on what it stops at, you can either win or lose. It's a very simple game that can generate extremely high winnings, if you're lucky!
What made this so incredibly popular is definitely the simplicity, as well as the fact that you don't have to bet too much. You pick your own bet sizing, and place them on your desired numbers. Even small bets can generate exciting winnings. The game welcomes freedom of choice which attracts all types of players. On this page, we'll go through how Dream Catcher works, and where you can play it!
How to Play Dream Catcher
As we said earlier, this game is actually very simple and just a couple of rounds is required to get the hang of it. The only rule of the game is that you're supposed to bet on the right number on the wheel. It's really not harder than that. You bet on the number you think the wheel will stop on, and if you're right, you'll get paid out your bet multiplied by the number. You can bet on 1, 2, 5, 10, 20 and 40.
The wheel also contains two multipliers, x2 and x7. If you hit these, the numbers on the wheel will be multiplied with that number, and then then the host will spin the wheel another time. If your number were to hit, you'd be paid out the bet times the multiplier times the number. This can result in incredible multipliers, and mind blowing winnings.
Every round starts with the players placing their bets. What's so good about Dream Catcher is that an unlimited amount of players can play at the same time. Once 10 seconds have passed, the bets will close and the host will spin the wheel. The host will also continue to talk throughout the round and commentate on what's going on. If the wheel eventually ends up on the number you bet on, you win!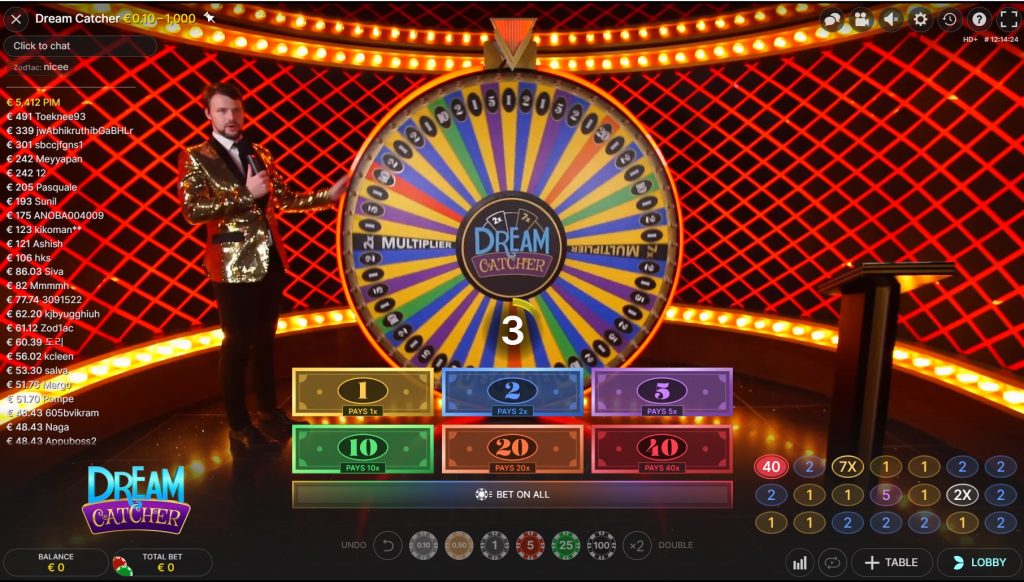 High Multipliers – High Winnings
What would a casino game be without great winnings? As previously mentioned, Dream Catcher contains multipliers on the wheel which cranks the excitement up a few levels. The fact is that you can hit the multiplier and get up to 7x multiplier on all the numbers on the wheel. This will greatly enhance the winnings that will be paid out that round, to sometimes hundreds of times your initial stake.
It's fairly simple to hit the right number on Dream Catcher as there are not that many to begin with. The lower the number, the more frequently it appears on the wheel. The best part about the multiplier is that when it hits, everyone is still in the game, and thus it's still exciting for everyone.
Dream Catcher Bonus
Dream Catcher has no bonus that can be won, or obtained inside the game. You can, however, get a casino bonus from the International Casino you're playing at, which can greatly boost your balance and give you some longer sessions. Casino Bonuses for Live Casino can be found in our Live Casino section.
Most International Casinos in the list around this site actually have welcome bonuses that you can use in their Live Casino section. We strongly recommend that you read through the bonus terms before you accept it though, as they might forbid Live Casino games or simply have high wagering requirements.
We would recommend using a classic deposit bonus which doubles your initial deposit. These are the best bonus types for Live Casino, as it just adds extra money to your balance. Free Spins, and Free Money, can not be used on Dream Catcher unfortunately.