Roulette is one of the oldest casino games we have, dating back to France during the 16th century. This is an exciting game that can easily be enjoyed by anyone, as it's very easy to pick up. With all the numbers and available betting methods, this game has a depth to it that most other casino games lack. You could say it's easy to pick up, but hard to master. Despite Roulette being mostly about luck, there's hundreds of different betting strategies and methods that you can use to further increase your chances against the casino.
Roulette was one of the first games, along with Blackjack, to be released as Live Casino versions a couple of years ago. Since then, tons of providers have picked it up, and today you can enjoy all sorts of different Roulette versions when playing online. There's European Roulette, French Roulette, Evolution's Lightning Roulette, and many more. On this page, we'll go through how to play Roulette, where to play it, and how to get an awesome casino bonus for it!
What is Roulette?
Roulette is a classic table game played on a big wheel with 37 different compartments if you're playing European Roulette, or 38 if you're playing American Roulette. Your goal in this game is to predict in which compartment the ball will end up after the ball has been spun. There's tons of different betting options to choose between. Lastly, there's also a zero on the table, which is green.
The core game of Roulette has pretty much the same rules wherever you go, but depending on where you play it, there can be some variations. Make sure to read up on the particular Roulette version you're playing to know the exact game rules.
Every game starts with the players having some time to place their desired bets. After the bets have been closed, the game round will start. Once bets have been closed, there's not much else to do as a player other than sit back, relax and wait for the ball to stop spinning. This can be incredibly exciting as payments on numbers can be up to 35 times your stake!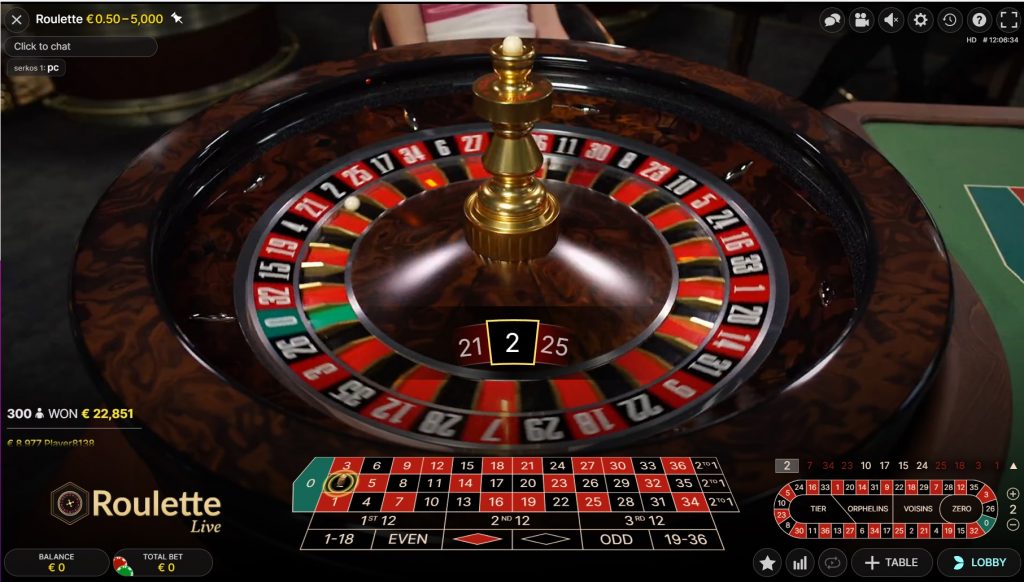 How to Play Live Roulette
Getting started playing Live Roulette is actually incredibly easy, and it will take you just five to ten minutes to get the hang of the game. As we went over in the previous section, every round starts by the players having 10-15 seconds to place their bets. Here, you can choose to bet on a particular number, a combination of numbers, red or black, odd or even, numbers between 1-36 as well as the 0 which is green. We would recommend starting out by placing easy bets such as odd or even, black or red, or just some of your favorite numbers. This will help you get started.
Once you've placed your bets, the bets will eventually close and the game round will proceed. A Live Dealer will commentate the game round as it progresses, and they will also be the one to spin the ball after the initial bets closes. Once the ball has been spun, all you can really do is hold your breath and your thumbs, and wait. If you're lucky, you hit the number on any of your bets, giving you an awesome payout!
Live Roulette Bonuses
Live Roulette is an old classic table game that doesn't contain any in game bonus features that you can win, or trigger. However, there are Live Casino Bonuses that you can use to get some extra money to play for when playing Live Roulette. These bonuses can be found all around TopTopCasinos. In our lists, we have top International Casinos with some of the best Live Casino bonuses out there. These match bonuses make sure that you get some extra balance to play for, which will allow you to stay longer, and some extra chances of cashing out!
When accepting a Live Casino Bonus, you need to make sure that the bonus is available for Live Casino play. Not all Casino Bonuses can be used to play Live Roulette. Some websites have seperate bonuses for Live Casino, while others use the same bonus for both sections. Another thing to keep in mind is that the wagering requirement is usually very different in the Live Casino section.