Baccarat, or Punto Blanco, is an incredibly old casino game dating back to Italy over 500 years ago. This game is very simple, and has a very low house edge. The player who's total sum is closest to 9 after the game round is over wins. In this game, there's only 3 possible outcomes you can bet on, the player's hand winning, the banker, or a tie. The game being so simple makes it easy for anyone to pick up, and is one of the biggest reasons for it's big popularity.
Live Baccarat was introduced a couple of years ago by Evolution, and today you can enjoy it on many Top International Casinos. Live Baccarat has many different variations that you can enjoy such as Live Speed Baccarat, Live Baccarat Control Squeeze and more. On this page, we'll be going through how to play Baccarat, where to play it live, and how to get an awesome bonus for it!
What is Baccarat?
Baccarat was first called Punto Blanco when it started getting popular back in Italy. Once it arrived in France it was renamed to Chemin de Fer. This game's popularity really started taking off when the overclass on the Riviera started enjoying it. Over the hundreds of years, royalty and fine people have enjoyed this game and it's simplicity. A game of Baccarat is typically played with either 1, 6 or 8 decks of cards. When playing Live Baccarat, it's always 8.
As previously mentioned, there's three different bet options you can bet on before the game starts, the players hand, the banker's hand or a tie. Players hand pays out 2:1, Banker takes 5% provision and Tie pays out 9:1.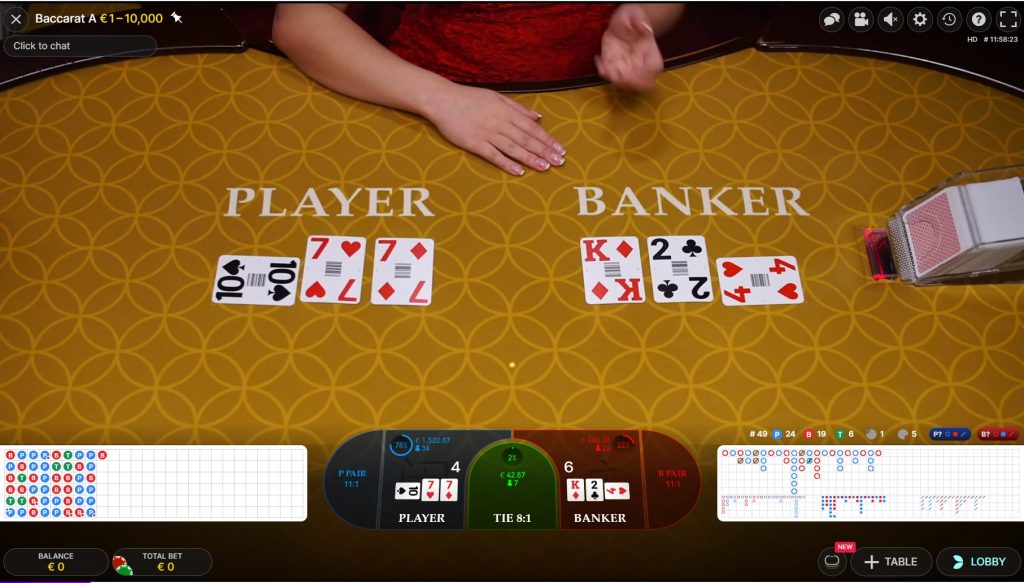 How to Play Live Baccarat
Each game of Baccarat starts out just like any Live casino game, with the players being able to place their bets. Here you can choose to either place your bets on the player, banker or a tie. Once all bets have been placed, the bets will close and the round will begin.
Each player gets dealt 2 cards, where the value of the card is based on the number. The exceptions are ace which is worth 1, and the face cards and 10 which is worth 0. As you can see, only the numbers matter, and once you've passed 9 you start over again. Below we've listed two examples of Baccarat hands to make this even more clear.
Example Hand: You get dealt an Eight and a King. 8+0 = 8, the total value of this hand is 8.
Example Hand: You get dealt a Three, a Jack, and an Eight. 3+0+8 = 1, the total value of this hand is 1.
Since the goal of the game is to get as close to 9 as possible, getting 8 or 9 with the first cards is actually a great thing. This is called a Natural. If either of the hands gets a Natural, the game will end and the highest hand wins. However, if neither hand gets a Natural, the game continues, and the player gets another card.
Live Baccarat Bonuses
Fortunately, as Baccarat is such a popular game, there won't be any problems for you to find bonuses that you can use on the tables. Many popular and big International Casinos on the market have awesome Live Casino bonuses available. Many of these casinos, you'll find in our lists here at TopTopCasinos. These bonuses usually have way more favourable wagering requirements than your typical casino bonus, as it's harder to wager on Live Casino tables.
Before you jump on a new casino to play with a bonus, we strongly recommend that you skim through the bonus terms. This will help you make sure that the bonus is available for Live Casino games, has decent wagering requirements and no weird rules that stick out. This is to make sure that you won't be breaking any crucial terms for the bonus.